6 steps to Dowel Art®
1
First, long dowels of wood from china are cut into pieces of about 25mm and then deburred in our wood tumblers.
2
Next, the dowels are dyed and then dried according to our own special procedure so that a rich palette of colors is created.
3
The base plates are milled and glued onto the wooden bottom.
4
The dowels are pinned into the base plates in the correct order, the most time consuming step. We use our converter software to perform this step.
5
A frame of hardwood (for example bubinga, beech or walnut) is created and placed onto the bottom to enclose the dowels.
6
The dowels are finished with a layer of polyurethane lacquer and the wooden frame is finished with danish oil.
Originated from a hobby product
Some people believe photos on canvas are somewhat corny. Almost everyone has at least one hanging on the wall. We realized that it would be fun to create something new, something original, preferably from wood but still with a personal touch. Our idea was to convert a photo into wood, the result is Dowel Art®.

Heavy duty frame hanger
Included with all our artwork is a strong but simple solution to hang the products on the wall: a two part heavy duty frame hanger. Two aluminum interlocking brackets modeled after the french cleat. With the smaller artwork the 12 inch version is included, capable of holding up to 54 kilograms, with the larger artwork the 30 inch version is included which can hold up 136 kilograms.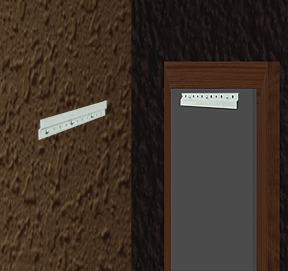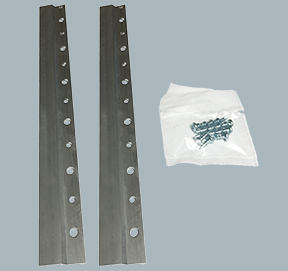 Art, wood & paint trivia
Leonardo da Vinci wrote all of his personal notes from right to left, forcing those who read them to use a mirror.
Facts
Did you know that we finish the dowels with a non yellowing polyurethane lacquer so that the dowels are protected from sunlight and other damaging influences? This lacquer darkens/enhances the dowel colors a little. This can be a downside, but we think it's hardly noticeable, see for yourself: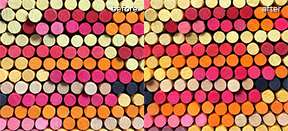 To finish the frame we use danish oil, a tung oil mixed with other natural oils and resins. This wood oil penetrates deep into all types of wood and creates a gloss finish.
The length of the dowels and the depth of the holes in the base plates varies so as to create a playful effect. The holes in the base plates are slightly wider than the dowels to compensate any expansion of the wood (think of the warm summer months). Therefore, our artwork should be kept upright to prevent dowels from falling out of the holes although this rarely happens.

Our dowels
The wooden dowels we use are from FSC certified forests. The FSC (Forest Stewardship Council) is an international not for-profit, multi-stakeholder organization established in 1993 to promote responsible management of the world's forests.

Wooden frames
Although we first preferred to focus exclusively on the design of the inner piece of our artwork we have decided to also make the enclosing frames. We buy the wood at timber merchants, we saw, we chamfer, we sand and we polish them ourselves because the existing frames that frame makers would offer us were not what we were looking for.

a few words about our product
Dowel Art® is a product of 4 components: dowels, base plates, a wooden bottom and a frame. Stitched together they make an original artwork for your wall.
The 'photo to Dowel Art®' converter process
We start with an image.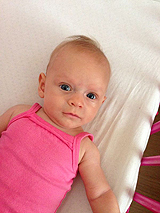 The image is scaled down, cropped and converted to the Dowel Art® palette, so that the dowel colors approach the colors in the original image. The height of the image is enlarged by 15% because of the way the dowels are placed on the base plates.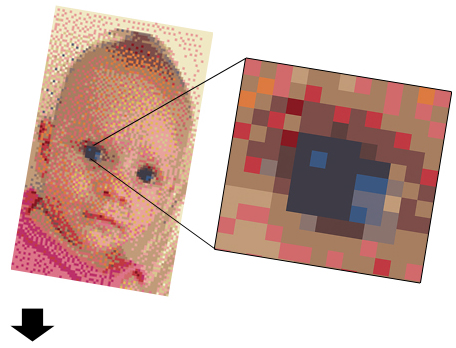 In this case the image is rotated counterclockwise to make it fit better. The image below shows a piece of the output of our converter software, the numbers represent the color ID's.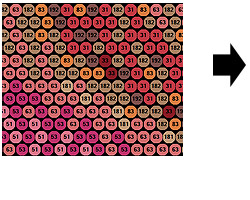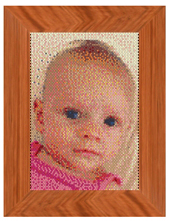 The final result with frame. The 15% larger height is now compensated.
some information about dowels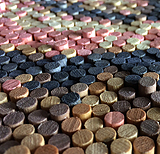 A dowel is a solid cylindrical or square rod, usually made of wood, plastic, or metal. In its original manufactured form, a dowel is called a dowel rod. Dowel rods are often cut into short lengths called dowel pins. Dowels are employed in numerous, diverse applications including as axles in toys, structural reinforcements in cabinet making, and supports for tiered wedding cakes.
We use wooden dowels in a different way: to create beautiful art. Our dowels are made from trees from china and are cut into pieces of 22 mm in length and have a diameter of 5 or 9.5 mm. The dowels are then dyed to create a palette of colors, we call this our Dowel Art® palette. Once our client has chosen a photo to convert into a wooden piece of art, our software converts the colors of the photo to our Dowel Art® palette.
Before we start the process of placing the dowels in the base plates we send our client a preview of the final result, created in a 3d application.

some information about our base plates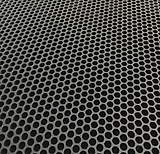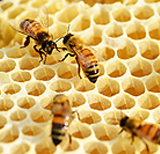 The base plates are made of a synthetic polymer and keep the dowels together. The plates are somewhat flexible and are milled on a CNC machine. Each plate has 65 x 55 or 37 x 31 holes and they connect seamlessly with each other. The holes have 0.55 or 0.75 mm spacing in between. The holes are not milled side by side but zigzagged, because this leaves less space in between (like a honeycomb).

some information about our frames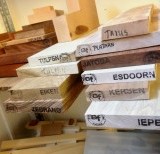 With Dowel Art® a frame encloses the dowels. The function of our frame is to protect the dowels and give more strength to the artwork. The framework also has a visual function, as some compositional things better come into their own when there is a frame around it. Moreover, it is generally perceived as beautiful to have unfinished sides covered.
We want to deliver a high quality product and therefore we believe that it is important to deliver a rigid frame. A frame of hardwood from 11 cm to 23 cm wide (depending on the type of Dowel Art®). As a general rule, we strive to provide a frame with a width of 20% of the shortest side and a thickness of 2.5 cm to 5.5 cm. For instance, a type DL33 Dowel Art® will get a frame of 17 cm wide and a thickness of 4.5 cm. We offer the client the choice of different types of hardwood (depending on stock), such as beech, oak, bubinga and walnut.

Dowel Art® color palette
Below are the colors that we are currently capable of producing.